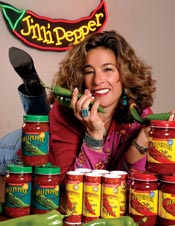 New Mexico's original Jilli Pepper products were born in the kitchen of Jilli Pepper founder and owner Jill Levin. In the summer of 1993, Jill's tomato harvest from her small but fertile garden was tremendous.
She wondered what she was going to do with all the tomatoes, and since she loves to cook, Jill started making salsa for all her friends. The reviews were great and the requests for more poured in. Jill's salsas were such a hit that she thought, "Why not bottle it?"
And she did, determined to share her salsa with the world. The result is Jilli Pepper Red Chile Pineapple Salsa, Green Chile Salsa, Red Chile Salsa Mix and Hot Fiesta Pepper.
---
Albuquerque: The Magazine
This monthly magazine featured the following article in its February 2007 issue:
The word "impossible" does not exist in Jill Levin's vocabulary. When faced with what appear to be insurmountable odds, she manages to find a way around them and keep on going. Whether it's turning what should have been exile into a three-decades-long love affair with the Southwest or managing the ninth month of pregnancy with some frightening complications, Levin doesn't seem to know how to give up.
It is with this same drive that Levin pursues her new passion—a company she calls Jilli Pepper.
Her home office is piled with products. Levin's eyes sparkle as she fishes out a spice container from the pile. "This is my latest," she says, holding up the container for inspection. "I like to call it New Mexico in a Can. If I have my way, it will replace black pepper on the kitchen table."
The spice is not her first product. In fact, it is the latest in a long line of salsas and other products she likes to refer to as "New Mexico With a Twist," such as Red Chile Pineapple Salsa, Jillibean Dip, and her award-winning Red Chile Salsa Mix packaged specifically in a plastic tube to meet flight standards for tourists who, at the last minute, decide to take home a bit of New Mexico tucked away in a carry-on bag.
Inspiration for her company came at a time when Levin was looking for more flexibility in her career. Already a successful advertising executive at a local television station for almost twenty-five years, Levin wanted to have more control over her future. She had been making her salsas for friends and parties, finding inspiration as she went (the pineapple in her pineapple salsa, as a matter of fact, was born out of necessity—she was putting together a big bowl of salsa for an upcoming party and knew she needed to add something else. Her cupboards yielded a large jar of chopped pineapple, and she thought, "Why not?"). But when she expressed interest in breaking into the salsa market and putting her pastime to work, the advice was anything but encouraging.
"I was told that it's very hard to do; that there was so much paperwork and agencies to go through in order to get everything off the ground," she says.
Levin smiles and sits back in her chair before she finishes her story. "Basically, ninety days later I was in business with one product and won a third-place ribbon for best salsa in the National Fiery Foods Show. That was in 1994."
She points to what looks to be a massive quilt hanging behind the couch. Upon closer inspection, it's clear that it's actually a collage of awards and ribbons that Levin has won over the years. There are more than a few first place ribbons sewn into the display.
Levin's roots are a long way from New Mexico. The daughter of academics, her father a professor at Yale University, she spent her early years on the east coast before making her way to Albuquerque. "My sister was already out here, and I'd managed to get in with a crowd that my parents thought I could use a break from, so I was sent out here in 1975 to UNM for college. They thought it would be a good cultural experience," she says.
Levin laughs at the memory. "I got off the plane in August. You know how it is here then. Everything was brown, and all I could hear were the cicadas. It was so flat everywhere." She spreads her arms wide, encompassing the views of the Bosque outside her North Valley home. "Obviously, it worked. I've never left."
Her loyalty to New Mexico extends to the ingredients in her products, which are now sold coast to coast. "I've chosen to stay more of a boutique-type company, because I want to have all New Mexico ingredients in the items I sell. The only way I can do that is to remain more of a gourmet specialty company."
Levin says one of the best parts of being her own boss is getting to spend more time with her husband, Frank, and son, Aaron. "I get to volunteer in his class, and I don't have a boss breathing down my neck if I don't clock in exactly at nine. Like last week, I was teaching the class and teacher how to knit. Nine of the kids already got it," she adds.
When Levin speaks about her family, her face shines. She shares that she is gathering up support to get morning recess reinstated in her son's elementary school. "It takes up a lot of time, but I'm only going to be a mother once. I love being able to be a part of all of this, and starting my own company has allowed me to do so much more of this than I ever could have in the corporate world," she says.
When Levin was expecting her son, her life took a sudden turn for the worse.
"I was nine months pregnant and out to lunch when the whole side of my face started going numb. My doctor thought it might be a stroke, so I hurried to his office. Instead, it turns out I had Ramsay Hunt [Syndrome], which causes debilitating facial paralysis. It doesn't always go away after pregnancy." She points to a slight droop in one eye and to a tug at the edge of her smile.
"It's a lot harder for people looking at me; I still see out the same way," she says with a laugh. Levin is a striking woman, and somehow her willingness to talk openly about her condition makes her even more charming.
Not surprisingly, Levin is not satisfied with her progress. Next on her agenda? "Aaron and I are working on creating a hot sauce, one to really sizzle people's palate. He's a hot sauce eater, so I want it to be something we've created together. It'll be unique. You can count on that," she promises.
—By Lisa Abeyta