Recipe Image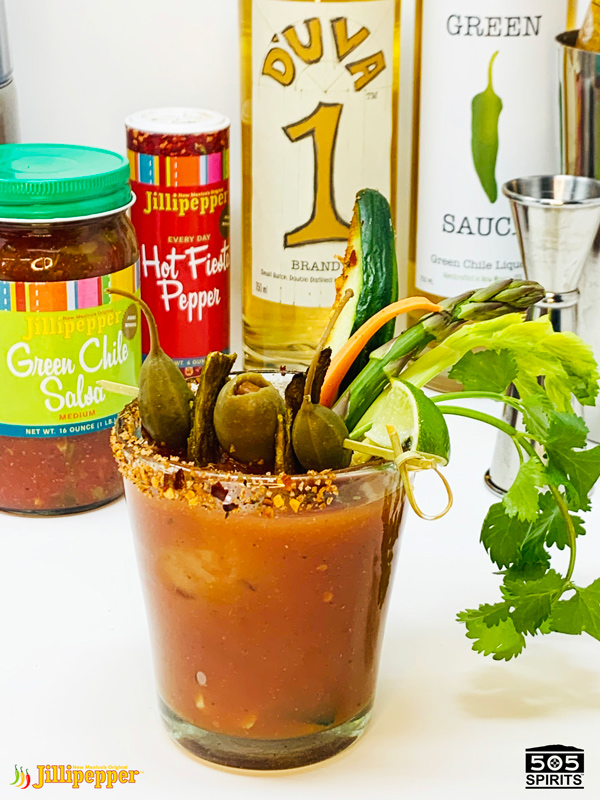 Our friends at 505 Spirits grabbed some Jillipepper Green Chile Salsa and Hot Fiesta Pepper to create this super delicious, tangy and fiery New Mexico twist on the Bloody Mary. If you like it spicy, you will love this. And it is so easy to make!
Anna at 505 Spirits says, "Jillipepper's stupendous, locally made NM Green Chile Salsa, pureed in your blender, makes the perfect Bloody Mary 'mix'. Our D'UVA 1 Brandy steps in to replace (and completely outshine) vodka and our Green Sauce Green Chile Liqueur brings another layer of that NM GREEN flavor and smooths with just the slightest hint of sweetness.

We combine Jillipepper's Hot Fiesta Pepper (which is good on practically everything!) with sea salt for the perfect rim and veggie garnish and Mmmmmmmm… This is like a spicy salad bar party in your mouth!"
Check out the Spicy Green Chile Maria's Bloody Mary inspired cousin the Red Piña Maria Cocktail
Ingredients
1 oz D'UVA 1 Brandy
1 oz Green Sauce Green Chile Liqueur
4 oz pureed Jillipepper Green Chile Salsa
Assorted veggies for garnish, such as cucumber, carrot, celery, olives, caper berries, asparagus, jicama, lime wedge… get creative here!
Half of the fun of drinking these is eating all of the veggies that are dipped in the yummy elixir.
Instructions
PREPARE THE GLASS & VEGGIE GARNISH
Mix 2 parts Hot Fiesta Pepper with 1 part sea salt (or kosher salt) in a jar and shake it up.
Pour onto a small plate. Rub rim of glass with a lime wedge and dip in pepper/salt mixture. Slice up your veggies and dip the sides of some in the salt as pictured. You may want to make extra of the garnish! Cucumber dipped in this mixture is my new favorite snack of all time.
Once your glass is rimmed, put a few large ice cubes into the glass.
MAKE THE COCKTAIL
Combine D'UVA 1 Brandy, Green Sauce Liqueur and pureed Jillipepper Green Chile Salsa in a shaker and shake it up. Pour over the ice into the prepared glass. Garnish to your heart's content and SALUD & ENJOY!
Products In This Recipe